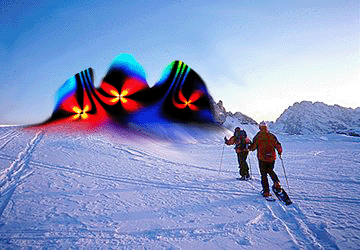 Introduction
We are pleased to announce the 8th European Conference on Liquid Crystals in 2005 which will be held in Sesto (Italy) from Sunday 27 February to Friday 4 March, 2005.
The meeting is being organised by the Italian Liquid Crystal Society.

Venue
The Conference will be held at the Sexten Haus, a tourist and congress centre located in Sesto (www.sesto.it), the Village of the Three Peaks - a real paradise for people who enjoy being active and love mountains. The ski resorts of the Alta Pusteria valley are ideal for skiers, snowboarders, carvers, deep-snow skiers as well as cross-country skiers. Associated with the resorts in winter time are 33 skilifts and more than 50 kilometers of excellent down-hill runs, numerous ski tours, 150 km of cross-country tracks and 70 km of hiking trails.

Discussion Sessions
The discussion sessions will address all the major areas of fundamental and technological research of Liquid Crystals (LC). The most recent developments in the preparation of new molecules and of novel phases of increasing complexity, their applications and the new techniques and developments for industrial needs will be considered. In addition the links with other current leading themes such as Nanotechnology and Biotechnology will be emphasized. The programme will include plenary and invited lectures, as well as oral and poster contributions in the following main subject areas:
Nanostructured systems, self assembly and patterning

Biological systems

Optical processing and storage

Display and imaging

Molecular design, theory and simulations

Synthesis of new LC materials

Polymeric and elastomeric LC
History of ECLC Conferences
The European Conferences on Liquid Crystals began in 1991 in Courmayeur, Italy, and were the result of a merger between the Liquid Crystal Conferences of the Countries of Eastern Europe with the Winter Liquid Crystal Conferences and Work-shops.
ECLC 2005 will return to the tradition of winter conferences and will be held on the Alps in a sky resort area.
Courmayeur, Italy 1991
Flims, Switzerland 1993
Bovec, Slovenia 1995
Zakopane, Poland 1997
Crete, Greece 1999
Halle, Germany 2001
Jaca, Spain 2003